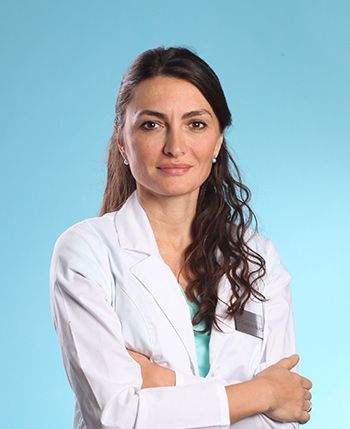 Medical doctor

Plastic, reconstructive and aesthetic surgeon

Diplomate of the American Board of Hair Restoration Surgery

PhD candidate at the University of Novi Sad Medical School

Founder and Director of the FoundHair training programme

Founder of the Women's Center for Hair Loss

Director of the research department at the Miami Foundation for Hair Restoration

Founder of the Dr. Gorana Kuka Foundation
---
PROFESSIONAL RESUME
Dr. Gorana Kuka was born in Belgrade where she attended primary and then high school, after which she graduated from the Belgrade University Medical School. After graduating she completed her obligatory internship at the Dragiša Mišović University Hospital Center and then started working at the Dr. Colić Hospital for Plastic, Reconstructive and Aesthetic Surgery. She specialized in plastic and reconstructive surgery.
She received training in hair transplantation and hair loss treatment under the mentorship of leading world experts from the US, at private clinics in New York, Dallas, San Francisco and the University of Miami. She is currently studying for a doctorate at the Faculty of Medicine in Novi Sad in the area of clinical studies, and is close to completing her PhD thesis. In 2014 she moved to the US and joined the Foundation for Hair Restoration and Plastic Surgery.
She is the founder and director of the FoundHair training program in Miami, which provides training for physicians wanting to specialize in hair transplantation. She has also founded a specialized centre for the treatment of hair loss in women, with clinics in Miami, New York and Belgrade. She is a diplomate of the American Board of Hair Restoration Surgery. She is involved in research work, and has conducted a number of clinical studies in the field of hair loss treatment, including a US study into the use of stem cells. She lives and works in Miami but regularly goes to New York and Belgrade where she performs procedures and consults with patients.
EXPERT IN HAIR TRANSPLANTATION
Dr. Gorana Kuka Epstein began her work in aesthetic surgery immediately after completing her internship, working in a private aesthetic surgery practice alongside her residency training. In addition to cosmetic facial and body procedures, Dr. Kuka Epstein began working on what was then a new method of hair transplantation – FUE (Follicular Unit Excision).
She is one of the pioneers of this technique, not only in Serbia but internationally, having used the automated FUE method from the very beginning. She has traveled all over the world in order to perfect this method under the world's leading experts, with her most important training gained in the US.
With more than 3000 FUE transplantations to her name in the years since she has been performing them, she is numbered among the world's leading experts and authorities in this field of medicine. The E-system hair transplantation device, which is used all over the world, was devised by Dr. Kuka. She is a regular speaker at international conferences on the topic of hair transplantation, and also conducts training for physicians and medical nurses wishing to learn this surgical procedure.
In addition to hair transplantation she has further specialized in eyebrow transplantation and beard transplantation. She also frequently carries out corrective procedures on previous hair transplantations which did not give natural or desired results. She also applies reconstructive methods to correct scars in the scalp or facial hair regions, and her original techniques for reconstruction of scars using a combination of fatty tissues and grafts has been published in the professional literature.
She also uses the Body Hair Transplantation – BHT method whereby hair from the body can be used for transplantation if the donor region on the back of the head is small or insufficient. One very popular method is IFT (Individual Follicular Trim) – a hair transplantation method that does not require shaving of the donor site. Thanks to her well-practiced and trained team of assistants she frequently carries out procedures exceeding 2000 grafts.
Her years of experience in aesthetic surgery, and her constant striving for improvement in the area of hair loss, hair loss treatment and hair transplantation, have numbered Dr. Gorana Kuka Epstein among that small group of physicians who are able not only to provide their patients with a completely natural appearance to their hair after transplantation, but also to inform them wherever there are limitations to transplantation and to advise them of the advantages of treatment over transplantation.
In order to become a diplomate of the American Board of Hair Restoration Surgery (ABHRS), the only diplomate in the region, Dr. Gorana Kuka Epstein had to undergo a detailed evaluation of her work, her knowledge and her ethical practices in order to receive this prestigious accreditation.
TREATING HAIR LOSS
Treating hair loss is another area of interest for Dr. Gorana Kuka Epstein and involves the treatment of those patients who could potentially improve the appearance of their hair through the use of targeted therapies.
She brings to bear the latest hair loss diagnostic and testing methods in order to determine the causes of hair loss. She also uses less invasive alopecia treatment methods such as medications, mesotherapy with vitamin cocktails, PRP therapy (therapy using platelet-rich plasma and growth factors), microneedling, corticosteroid therapies and Low Level Laser Hair
Therapy. She is an advocate of regenerative medicine and is actively expanding the indications for which this therapy can be applied, which includes the use of stem cells in the treatment of hair loss. 

RESEARCH WORK
In addition to her clinical practice she is also actively involved in scientific research work. To date she has conducted a number of successful clinical studies in Serbia and in the US. She has conducted an analysis of the regeneration of the donor site after use of the FUE method in relation to the diameter of punch used.
She has researched the use of PRP therapy in the treatment of alopecia areata, for which she has developed her own protocol. She has conducted a number of studies on the various indications for the use of adipose (fat) tissue in hair loss treatment, which has resulted in her own original therapy known as Pure Hair Grafting.
She is also the author of a technique for correcting scars on the face and scalp using a combination of the patient's own fat tissues and hair transplantation. This method was presented at the World Congress of the International Society of Hair Restoration (ISHRS) in Chicago in September 2015. She has authored a number of significant papers in the medical field, published in professional journals.
The most significant study she has taken part in is one into the use of stem cells in the treatment of androgenetic alopecia. Dr. Gorana Kuka Epstein was retained by the American company Kerastem as a doctor taking part in this trial, which was the first of its kind to be approved by the US FDA (Food and Drug Administration).
This multicentre study was conducted in four US cities, and Dr. Kuka Epstein was an investigator in Miami. The trial investigated the safety and efficacy of this method of alopecia treatment in men and women. The device tested was one which isolates stem cells from the fat tissue in just two hours, while photographic measurement monitored changes in the diameter and density of the hair.
Dr. Kuka Epstein announced the preliminary results of the study at the ISHRS congress in Prague. It seems that the use of stem cells is about to open a new chapter in the treatment of hair loss, and this study was no doubt the most significant step so far taken in making these treatments available to patients as soon as possible, as another very promising therapy in the fight against hair loss.
A major new study is planned for 2018 into the use of a new device in the treatment of hair loss. The study will focus on the treatment of androgenetic alopecia and will be conducted in three US cities. Dr. Gorana Kuka Epstein will be a researcher for this clinical study in Miami.
SPEAKER AND TRAINER
Dr. Gorana Kuka has spoken on multiple occasions at local and international congresses on the topic of hair transplantation.  She is a member of the International Society for Hair Restoration Surgery (ISHRS), and has participated in the annual conferences of this society in Boston, Istanbul, the Bahamas, San Francisco and Prague.
In 2018 she was elected as a member of the congress organizing committee and is also on the jury for evaluation of abstracts. She has taken part as a speaker at the congress of the American Academy for Facial Plastic and Reconstructive Surgery, held in New Orleans, New York and Dallas. She has also taught at the NYU School of Medicine as an international guest of the Grand Rounds program, at the invitation of renowned US plastic surgeon Eduardo Rodriguez, Chair of the Department of Plastic Surgery at NYU. She was a guest speaker in Rome  at the congress of Regenerative Surgery in December 2018.
She is the founder of the FoundHair Training program, a three-day educational program intended for physicians who want to learn hair transplantation techniques. Training programs are held twice a year in Miami and are open to doctors from all over the world.
They comprise an intensive program covering 10-12 operations in the areas of hair, beard and eyebrow transplantation, as well as presentation of different hair loss therapies, together with detailed lectures in this field of medicine, as well as several workshops. The program also particularly focuses on the managerial and marketing aspects, with guest speakers.
Dr. Gorana Kuka Epstein at the ISHRS congress in Prague 2017
Dr. Gorana Kuka Epstein teaches doctors hair transplantation techniques during the FoundHair Training program.
WOMEN'S CENTER FOR HAIR LOSS
In 2014, together with Dr. Jeffrey Epstein, she founded the Women's Center for Hair Loss, a clinic specializing in the treatment of hair loss in women, located in three cities – Miami, New York and Belgrade. The complexity of hair loss in women requires special diagnosis: detailed examination, dermoscopy, trichoscopy, lab testing, hormonal analysis, allergy testing and sometimes a biopsy.
In addition to an accurate diagnosis, women receive suggestions on diet, supplementation, hormone correction, active hair-care and suitable therapy. It is very important to keep a photographic record of the patient so that we can closely monitor the effectiveness of the therapy and make adjustments if necessary. This center is unique not only in Serbia but worldwide.
www.womenscenterforhairloss.com
AESTHETIC SURGERY
Although the large part of her surgical practice concerns hair transplantation, as a specialist in plastic and aesthetic surgery she also practices aesthetic surgery for the face and body. From the very beginning of her career she has had the privilege of learning from leading aesthetic surgeons in Serbia, as well as traveling and advancing her skills abroad. She is a great believer in fat grafting – contouring the face and body using the patient's own fatty tissues.
Many patients carry out other aesthetic procedures in addition to a hair transplant. Often these are minimally invasive (botox, fillers, microneedling) but can also include liposuction, breast augmentation, rhinoplasty, protruding ear corrections, eyelid corrections and face-lifts. She has completed a course in dermoscopic diagnosis of skin lesions and can examine and remove these, too.
MEMBERSHIPS
Serbian Medical Chamber (SLK)
Serbian Society for Plastic, Reconstructive and Aesthetic Surgery (SRBPRAS)
International Society for Hair Restoration Surgery (ISHRS)
American Board of Hair Restoration Surgery (ABHRS)
American Hair Research Society (AHRS)
International Society of Aesthetic Plastic Surgery (ISAPS)
American Academy for Facial Plastic and Reconstructive Surgery (AAFPRS)
International Society for Plastic and Regenerative Surgeons (ISPRES)
International Federation for Adipose Therapeutics and Science (IFATS)
PUBLISHED WORK
Epstein JS, Kuka G. The role of hair transplantation in managing face trauma. Facial Plast Surg. 2017; 33(6): 613-620
Bonati LM, Kuka G, Strugar T. Microneedling in all skin types: A Review. J Drugs Dermatol; 2017, 16, 308-313
Epstein J, Bared A, Kuka G. Ethnic considerations in hair restoration surgery. Facial Plast Surg Clin North Am. 2014; 22(3): 427-37.
Epstein J, Kuka G. Beyond the hype – automation in hair transplantation. Journal of anti-ageing and cosmetic innovations. April 2015
Epstein J, Kuka G. Hair Restoration for the Otolaryngologist. Sataloff's comprehensive textbook of otolaryngology, head and neck surgery. January 2015.
Kuka G, Epstein J. The differential diagnosis and treatment of female hair loss. Plastic Surgery Practice, July 2015.
PERSONAL
Dr. Gorana Kuka Epstein lives in Miami with her husband. She is a great lover of animals, especially dogs, having four of her own. She takes active part in a number of sports, particularly tennis, followed by swimming, running, cycling, skiing and roller-skating. She practices yoga several times a week. She speaks several foreign languages.
"I want to keep getting better so that I can offer every patient the most comprehensive and modern treatment method, at the same time respecting their wishes. My team aims to take an individual approach to each patient, to make the experience at our clinic a special one, and for the patient to have a sense of trust and security when they are with us. We aim to distinguish ourselves by our quality and expertise".
Dr Gorana Kuka Epstein